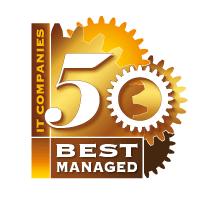 Welcome to the BEST-MANAGED IT COMPANIES ASSESSMENT TEST!
To learn more about the TechnoPlanet organization please visit technoplanet.com
This is a FREE online business assessment tool exclusively for VARs, MSPs and ITSPs to be evaluated in 12 key areas of business with about 200 questions to measure best practices. For each country, 8 Judges/Coaches will also be reviewing the applications for the 12 business categories as outlined below.
Being a best managed company has nothing to do with sales volume. It is based purely on the best practices that are used to run the business. Every applicant will receive a valuable score indicating in which of the 12 areas they could improve – some good advice to help them become a bigger, better, stronger and smarter business! The test and the report card is free and there is no obligation whatsoever!
If you are a VAR, MSP or ITSP, then you want to run your business on best practices to maximize your profits and improve efficiencies! It says a lot when you are a well managed company!
It says your company is one of the best-of-the-best in the IT Channel, in your country or the World, when it comes to running your business!
It says that you are one of the best business leaders in the IT Industry!
It says that your company is poised to have sustainable success in the future!
It is something that your team will be very proud of and will celebrate!
It says that your company is where the best people want to work!
Every Vendor and Distributor will want to do business more with you!
More customers will want to do business with you!
You can exploit this competitive advantage in your marketing activities!
Being a best-managed company may be the recognition that truly matters the most to your company! Do you know how well you compare to best practices? Put your company to the test. Complete the online assessment today!
The 50 companies with the highest sum-total score will also win a 50 BEST MANAGED IT COMPANIES Award in their country and compete for a Global Top 50!
The assessment questions are not really new as these are the very same questions and process that expert business coaches have been using for years to help many VARs, MSPs and ITSPs to evaluate their business practices. Putting these business assessment questions online for FREE is new. Having the Judges and Coaches to help review the assessment better analysis for FREE is new. Winning an Award for being one of the top 50 Best Managed IT Companies is exciting! This is one way in which we are helping the IT Channel to become bigger, better, stronger and smarter! Want to learn more? Ask us!
Here is a very brief overview of the 12 areas in which we will be evaluating the applicants:
All information provided by applicants is kept strictly confidential and are never disclosed outside of the authorized evaluation personnel. Only the company names of the top 50 winners are published to the public.